Start with a Clean Pantry
Pull everything out of your pantry and give it a good wipe down and sweep. Check all items for expiration dates and toss those that have expired. If there are items that you think you won't use by their expiration date, consider donating them to your local neighborhood food pantry.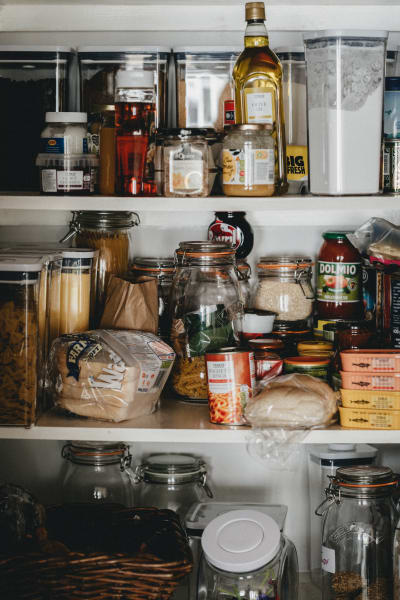 Tip: Consider measuring and lining your shelves after this step, to make for easier cleaning and longer lasting shelving going forward.
Categorize and Label Items
Begin to categorize your keeper items- oils, baking supplies, canned goods, boxed items, spices, etc. Clear containers for dry goods allow for you to see when you are running low on anything and also preserve the freshness of items longer. With clear containers, you can easily label them for an extra layer of organization- but for the items that you are not using containers or baskets with, you can label the sides of your shelves as well.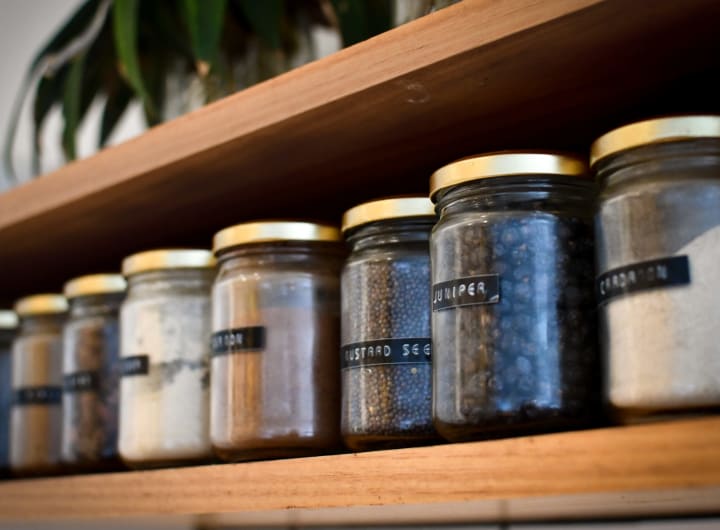 Keep Items Visible
Every item cannot be kept in clear bins or containers- and that can make you buy things you already have without knowing it, or allows items to expire that you don't know you have. Utilizing tiered shelving so that items don't get lost in the back of shelves, or can dispensers can make for easy viewing so nothing goes missing. If you have deeper shelving available, a lazy Susan is a great option for keeping small items in one easily accessible and viewable space.
Creating Extra Space
Wall space, floor space, and the back of the door should all be spaces you can utilize to add more room for pantry items. Adding shallow shelving to side walls and the back of the door can provide easy space for baggies, cans, or other small grab-and-go type items. Consider putting baskets on the floor and storing paper products, or an easily accessible kids snack section!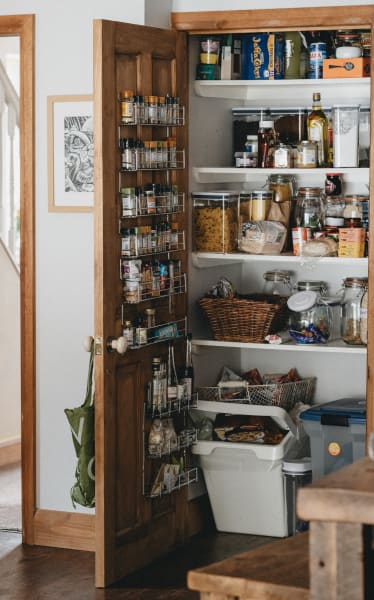 Add Your Pantry to Your Chore List
To keep your pantry looking great and organized, add it to your cleaning and organizing routine- taking the time at least once a quarter to go through and remove expired items and wipe things down. Nothing organized lasts forever, especially something used as often by multiple people as a kitchen pantry!